We are now accepting orders for the Picture that was taken at the Northampton Remembrance Day. There will be two choices: the "panoramic" that is similar to the 1920s version that was displayed; and a more conventional photograph that is expanded at the top to show the Keyser Homestead. Several people who saw examples of both preferred the "photograph" style to the "panoramic" style. Therefore, we are offering it first.
The picture will be 10" x 24" printed on Kodak paper. It will have enough of a margin to allow framing and/or matting. The cost will be $42.50 per print. A discounted price of $38.25 each applies to NHS members in good standing and to volumn purchases of 3 or more of these prints. Each order includes one list of participants and one electronic version of the index photo (The one where everyone held up the number.)
This price will be in effect until further notice. Lab prices change, so we don't know how long we can keep this price. Future orders will be made monthly. orders received by the second Monday of the month will be delivered at the following Society meeting.
If you bring a flash drive, we'll load the index print on when you pick up your print, otherwise, we will email it to you as an attachment. If you need it shipped, S&H of photo is approximately $10-15.00 depending on weight and zip code. It will be sent rolled up in a tube.
A note about the 40" panoramic. We will start accepting orders for it in January. Since these have to be ordered in groups of 4, we will need to wait until we have enough orders to have this processed. The price will be $52.50 and a discount will apply to Society members and quantity discounts.
To order, we prefer emails to info@nhsohio.org or a PM to the NHS Facebook account https://www.facebook.com/Northampton-Historical-Society, it's easier to keep track that way. We will accept phone orders should that be best for you. Dave 234.542.3982 Ken 330.475.2630.
The 40" sample is a close facsimiles of the finished print and does not contain the title Northampton Historical Society Remembrance Day September 15, 2018.


This is the 40 inch print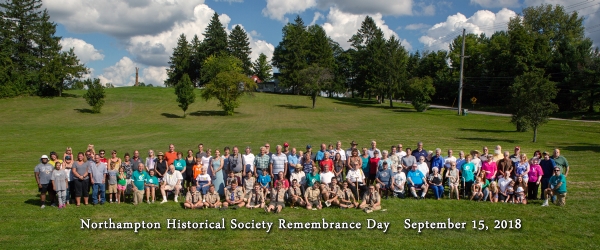 This is the 24 inch print



20200801