Ascot Park 'Biggest Little Racetrack in America' known for its big heart
By Mark J. Price Beacon Journal staff writerKim Clement Published on Monday, May 04, 2009
Loyal Son was loyal to the finish. Although his best years were behind him, the horse ran away with the 1967 Ascot Gold Cup.
The 8-year-old bay gelding was a former Kentucky Derby contender and great-grandson of the legendary Man O'War. He captured his 24th and final victory at Ascot Park, winning a two-mile marathon by four lengths.
"He's some kind of horse, ain't he?" jockey Ronnie Fairholm said in the winner's circle.
A few months later, Loyal Son died unexpectedly. His Ohio owners buried him near the 41/2 furlong chute at the track in what was then Northampton Township.
This was a park with a heart.
The state Route 8 complex, which operated for 45 years, had creaky grandstands and ramshackle barns, but it maintained a rustic charm that its glass-and-steel competitors could not match.
It billed itself as the "Biggest Little Racetrack in America."
Ascot dated back to 1923, when Akron businessman Steve Steinmetz and 20 backers developed 68 acres of farmland along the state road to Cleveland. Originally known as Northampton Park, the resort cost $262,000 to build — about $3.3 million in today's money.
A supposed selling point was its short track, which was three-quarters of a mile.
"Three-quarter-mile tracks are proving exceptionally popular in Canada, having the advantage from a spectator's standpoint that in races of almost any official distances, the start is made near the grandstand," the Beacon Journal noted in 1933. "In addition, the three-quarter-mile track allows spectators to see the horses and jockeys clearly when on the backstretch."
Racehorses hoofed it before the paint was dry. The grandstand, stables and barns were still under construction when the first races were run.
Ownership changed hands repeatedly over the next two decades. The track closed in 1929, reopened in 1935 and changed its name to Ascot Park in 1938.
During the Great Depression, the owners went bust. Barberton businessman Bill Griffiths and his associates purchased the park for a mere $17,500 from bank receivers.
"When we bought the track, it was just a chunk of ground with a broken-down grandstand and some broken-down barns," Griffiths later recalled. "Since then, we've almost completely rebuilt the grandstand, erected a clubhouse, a new concrete grandstand, a modern jockey quarters, several new barns and a new office for the racing secretary."
Griffiths leased the resort to Henry Green of Shaker Heights and Dan Cronin of Columbus, who in 1941 established a signature race: the Ascot Gold Cup. The two-mile marathon initially offered a $400 purse and a gold-plated trophy. In its final years, the race was worth $15,000 and represented the oldest continuously run stake in Ohio.
Jockeys nearly had to be math wizards to run a two-mile race on a three-quarter-mile course. Beacon Journal sports columnist Jack Patterson wrote that some jockeys put peas in their mouths and spit them out each circuit to keep track of the distance.
There were other oddities at Ascot. For example, the 1951 Gold Cup winner, Chiffon, won by 21/2 lengths despite carrying some extra weight. She was pregnant.
During a race in the 1960s, Patterson witnessed two jockeys accidentally switch horses in the middle of a race! One jockey slipped sideways, the other tried to steady him and the two fell onto each other's saddles — like stuntmen in a Wild West show.
Cleveland businessman Horace Adams bought Ascot for $1.3 million in 1954 and pledged to turn it into the ''Little Saratoga of the West.'' "To have a good racetrack, you must have good horses," he said. "And to have good horses, you must offer good purses."
Weather often worked against the park. Ascot's meetings generally were held from late March to mid-May, with the Gold Cup as the grand finale. The open-air grandstand was a cold, damp place in early spring. Still, Ascot managed an all-time record attendance of 12,525 for opening day in 1955.
Ascot sponsored A Day at the Races to benefit groups such as St. Thomas Hospital and the Akron Art Institute. The race day raised tens of thousands of dollars for charity.
The park did have its critics. Ohio Sen. Charles J. Carney of Youngstown called Ascot "a dump," and urged his colleagues to pass a law demanding that tracks be at least a mile long.
"Good horses won't come in to little tracks like Ascot," Carney huffed in 1961. After sinking $900,000 into renovations, Adams was more than a little miffed over Carney's "vicious charge."
"In all my years here, I don't think I've ever seen him attending the races at Ascot," he said.
When Adams died in 1966, Akron developer Andre Andreoli bought operating control of Ascot for $1.4 million. In 1968, he sold it to Youngstown magnate Edward DeBartolo, who controlled Thistledown, Randall Park and Cranwood Park.
Ascot's race was over.
The park was the setting for fairs, auctions, circuses, motorcycle races and pageants. A rock concert starring the Byrds, Kenny Rogers and Canned Heat was scheduled, but Northampton trustees canceled the event because of crowd concerns.
Already in disrepair, Ascot disintegrated. Vandals shattered its windows and scavengers carted away whatever they could.
Calling the derelict park a fire hazard, Northampton firefighters burned down its grandstands and other buildings in 1976 as a training exercise.
"We just poured some kerosene on it, lit it with a match and away it went," Northampton Fire Chief Dolph Heidbreder told the Beacon Journal.
Soon the race was on — for property.
Akron started gobbling up the land in the late 1970s. The annexation alarmed Northampton Township and Cuyahoga Falls residents, who voted to merge communities in 1986.
Today, the old Ascot site is part of a 200-acre industrial park that houses 20 companies.
We have to wonder, though.
Is he still there?
Depending on where developers dig, Ascot Gold Cup winner Loyal Son could ride again.
Mark J. Price is a Beacon Journal copy editor. He can be reached at 330-996-3850 or send e-mail to mjprice@thebeaconjournal.com.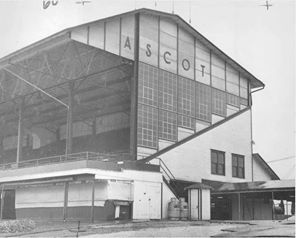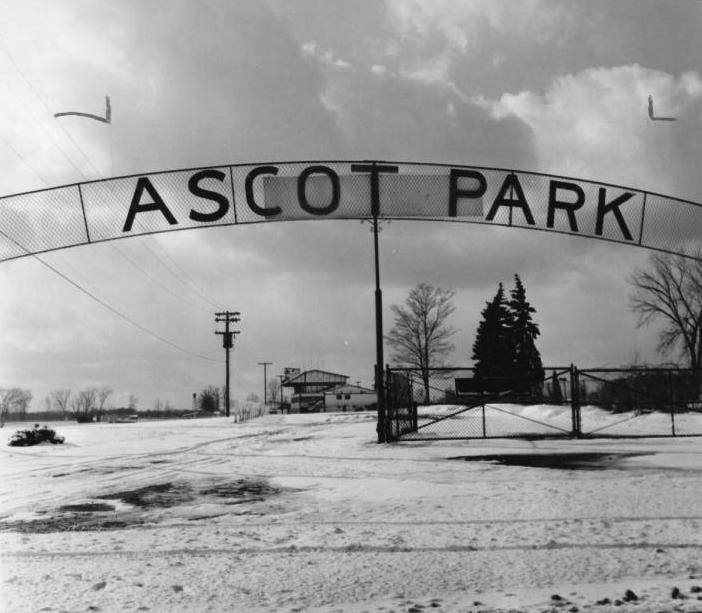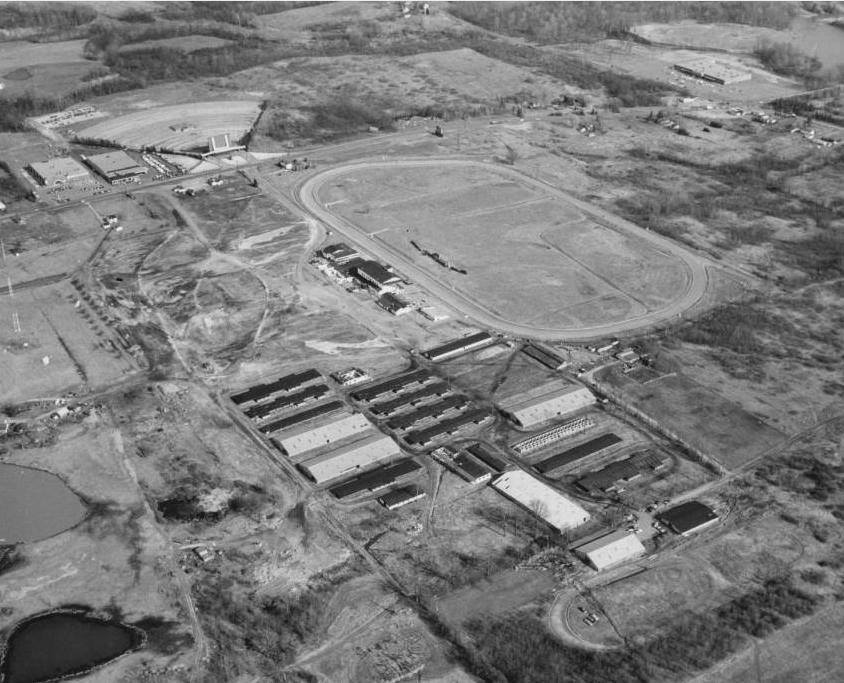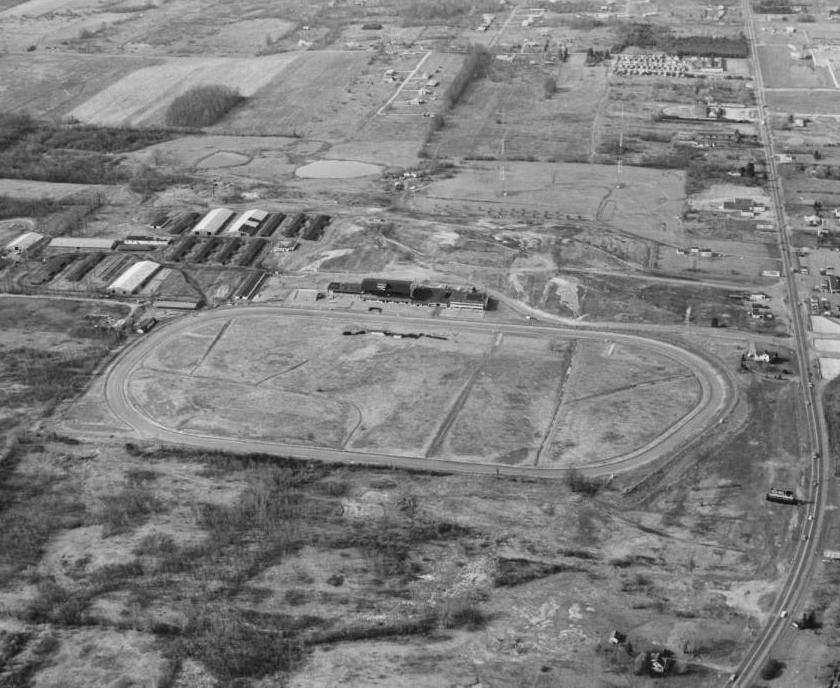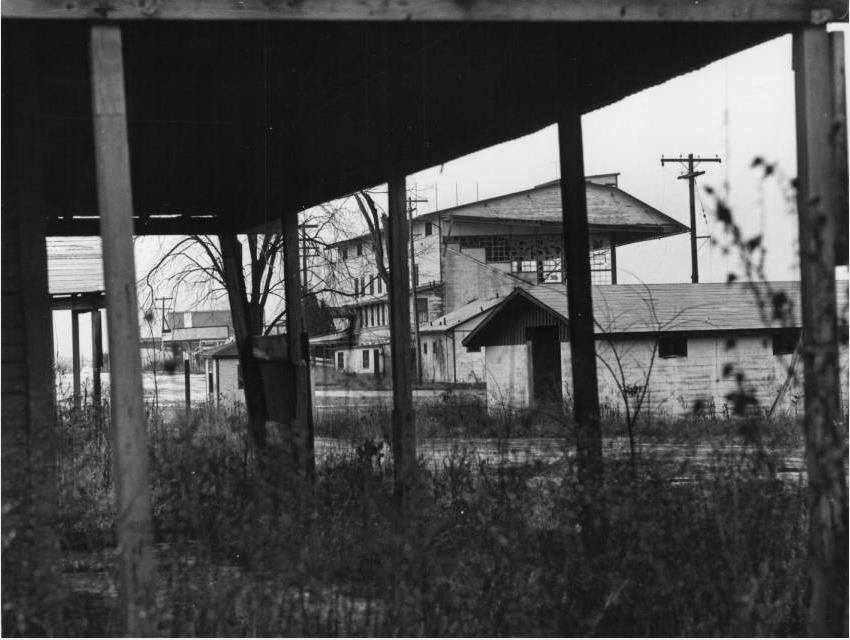 These uncredited pictures were downloaded from Facebook.
20170109